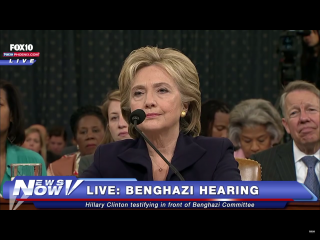 The U.S.Department of Justice, on behalf of the United States, filed a motion in court Friday to get the lawsuit filed by the parents of Benghazi victims dismissed. The parents filed the lawsuit against Hillary Clinton, but the DOJ is now involved because the plaintiffs are suing her based on her actions as Secretary of State during the September 11 2012 attack on the U.S. consulate in Libya.
In the motion, Benjamin Mizer, with the DOJ's civil division, said the plaintiffs hadn't exhausted all of their administrative remedies before they filed a suit. On top of that, they claim the plaintiffs didn't properly serve the U.S. government.
"Although Plaintiffs attempted to serve the United States Attorney's Office by mail, they erroneously mailed process directly to the United States Attorney rather than to the civil-process clerk," the motion states.  Therefore, the DOJ thinks the whole claim should be thrown out.
Patricia Smith and Charles Woods are the parents of American U.S. Foreign Service member Sean Smith, and Navy SEAL Tyrone Woods who both died during the September 11, 2012 attack on the U.S. consulate in Benghazi, Libya. They sued Clinton for wrongful death, defamation, and intentional and negligent infliction of emotional distress.
They allege that Clinton lied to them about the cause of the Benghazi attack. She allegedly told them in a private meeting that the attack "was the result of [an] anti-Muslim YouTube video that had been posted online and that the creator of the video would be arrested." The complaint alleges that "Clinton has negligently, recklessly, and/or maliciously defamed Plaintiffs by … directly calling them liars[.]"
Clinton's attorneys said that the underlying lawsuit is "facially implausible," politically motivated, and contradicted by the findings of the FBI.
Have a tip we should know? [email protected]
Rachel Stockman - Editor in Chief / On Air Host