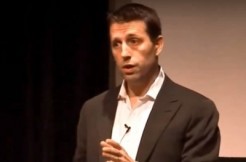 One doctor's defense against a sexual abuse allegation is being challenged. At a conference on Thursday, Assistant District Attorney Eun-Ha Kim said Dr. David Newman drugged a patient with Propofol, an anesthesia, before masturbating on her, The New York Daily News reports.
The patient said she went to Mount Sinai Hospital on January 11 to address some shoulder pain. Newman, an ER physician at the time, allegedly gave her two pain pills, and an inflammation shot. Long story short, Newman allegedly gave the woman a second shot of what he said was morphine, even though the nurse had already administered a dose. According to the woman, she eventually became unable to move, and was unable to do anything as Newman masturbated on her.
Newman defended himself against the allegation, saying it's all a misunderstanding.
"She may be mistaken about me ejaculating on her face because she was on morphine," he told police, according to The Daily News.
Newman was arraigned in March for abusing this patient, and three others. He faces one count of first-degree sexual abuse, which carries a seven-year maximum prison sentence in New York State, and four counts of third-degree sexual abuse.
The next court date is scheduled for July 22 at the Manhattan Supreme Court.
A spokesperson for Mount Sinai confirmed to LawNewz.com that Newman no longer works at the hospital.
–
Follow Alberto Luperon on Twitter (@Alberto Luperon)
Have a tip we should know? [email protected]