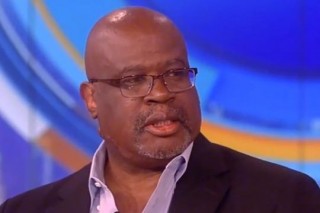 During an appearance on 'The View' on Thursday, O.J. Simpson prosecutor Christopher Darden discussed the trial that has taken on a second life twenty years later, thanks to a number of TV series and specials.
At one point, host Joy Behar asked Darden if he thought Simpson would confess at some point, to which Darden surprisingly said, "I think he confessed during the trial." After further discussion of the case, the idea of a confession came up again. Darden elaborated, saying, "We heard that he confessed … to Rosey Grier during the trial."
This news may be shocking to some, but it's not the first time people have talked about Simpson possibly confessing to Grier, a former football player who became a minister and visited O.J. while he was in jail. According to the Orange County Register, Sgt. Jeff Stuart, a guard at L.A. County Jail, claimed to have overheard a conversation between Simpson and Grier. At some point, Stuart reportedly heard Simpson yell, "I didn't mean to do it … I'm sorry!" Grier supposedly responded, "O.J., you got to come clean. You got to tell somebody."
Stuart testified during the trial, but he was only allowed to say that he heard a statement. He could not say what the statement was. Simpson's defense team argued that statements between inmates and members of the clergy were protected, and Judge Lance Ito ruled that it could not be admitted as evidence.
Have a tip we should know? [email protected]