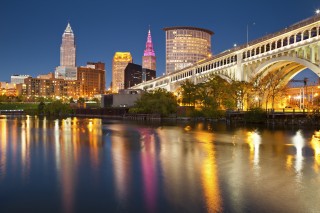 On Thursday, a federal judge threw out restrictions on potential protests during the Republican National Convention in Cleveland next month. Cleveland had originally planned for a heightened security zone around downtown Cleveland, but now has to redraw their event lines following the new ruling. US District Judge James Gwin's ruling comes 25 days before an estimated 100,000 Republican politicians, delegates and supporters are due to arrive in Cleveland for the event.  Gwin also held that the restrictions would limit the first amendment right to free speech.
Judge Gwin also had several other complaints about the restrictions. He claimed that the area was unduly large, the parade routes were insufficient and that parade hours were also inadequate.
"And I don't mean to suggest the city can't control the time and the parade routes, but I think the restriction to this Lorain-Carnegie Bridge at times when delegates area almost invariably not going to be present is an insufficient opportunity for First Amendment purposes," the judge said according to Cleveland.com.
This ruling follows the parade for the Cleveland Cavaliers' NBA championship win, the first sports championship parade in the city in 52 years.  An estimated 1.3 million people marched in that parade, which slightly exceeded the 1 million that the city expected. However, city attorney, Stewart Hastings, showed a key difference between the basketball fans and the RNC protestors.
"A celebration of happy fans is very different than the people I expect to come to Cleveland for the Republican National Convention," he said according to the Hill.
"[This is an] ideal target for international and domestic terrorists," Hastings added of the convention also according to the Hill.
However, the American Civil Liberties Union of Ohio is heralding the decision as a victory for them and the citizens of Ohio.  Currently, the ACLU is attempting to broker a new agreement with the city under the short time frame and hope to have a new deal within the coming weeks.
"A negotiated settlement is way better," ACLU of Ohio executive director Christine Link said, adding that she did not think the case would be resolved on Thursday according to Cleveland.com.
The Republican National Convention is scheduled for July 18th-21st.
Have a tip we should know? [email protected]