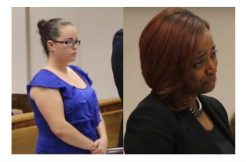 23-year-old Erica Kenny and 29-year-old Chanese White used to work for Lightbridge Academy in Cranford, New Jersey. Not anymore. That's because they were accused of instigating fights between kids ranging from 4- to 7-year-old. They pleaded guilty to fourth-degree child abuse last month, and now on Friday, the pair were sentenced to three years of probation.
According to Union County Prosecutor Michael Sheets, they egged over a dozen children into shoving and hitting one another. Apparently, the two called it a "fight club," referencing the movie and book of the same name.
White chose not to speak at Friday's hearing. Kenny, who was also charged with allegedly recording and uploading fight video to Snapchat, made a speech.
"I'm not the monster that they're trying to make me out to be," she said.
Sheets made the case for the prosecution. He said she encouraged the violence, and told the kids to keep it a secret.
Lightbridge Academy said they fired White and Kenny on August 17, 2015 after charges were filed.
"We will never tolerate any behavior that calls into question the well-being and safety of children," President and CEO Guy Falzarano wrote in a statement obtained by NJ.com. "While this appears to be an isolated incident, to be diligent, we will be retaining the policies and procedures with all staff."
[screengrabs via NJ.com; Kenny on left, White on right]
–
Follow Alberto on Twitter (@Alberto Luperon)
Have a tip we should know? [email protected]