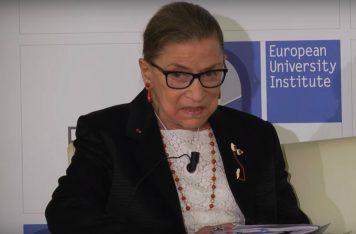 Supreme Court Justice Ruth Bader Ginsberg surprised many people earlier this week with her remarks on the controversy surrounding athletes refusing to stand for the national anthem. Ginsberg told Katie Couric she thought it was "dumb and disrespectful" for athletes to protest the national anthem. Predictably, Ginsberg is now apologizing after she received some criticism over her remarks.
Justice Ginsburg on Kaepernick and National Anthem protests: I should not have said that pic.twitter.com/eQMQAWbo1d

— Todd Ruger (@ToddRuger) October 14, 2016
Todd Ruger, the legal affairs writer for Roll Call CQ, tweeted out Ginsberg's apology on Friday afternoon.  Ginsberg said she should not have responded to the question because she was "barely aware of the incident." She also described her comments as "inappropriately dismissive and harsh."
This is the second time in recent months that Ginsberg has felt the need to apologize over her public remarks. Over the summer, Ginsberg made highly critical comments about Donald Trump, only to apologize days later.
[image via screengrab]
Have a tip we should know? [email protected]