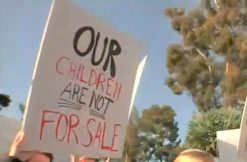 What's the best way to combat human trafficking? For some California lawmakers, this involves supporting treatment options, and decriminalization. That's what going to happen come New Year's Day thanks to SB 1322. This bill, signed into law back in September, would make it so a minor's life isn't weighed down by a prior misdemeanor conviction.
"The law is supposed to protect vulnerable children from adult abuse, yet we brand kids enmeshed in sex-for-pay with a scarlet 'P' and leave them subject to shame and prosecution," said State Senator Holly J. Mitchell (D-Los Angeles). "This is our opportunity to do what we say is right in cases of sex trafficking: stop the exploiters and help the exploited."
The blame lays in the hands of predatory adults, not abused children. Assembly Member Travis Allen (R-Huntington Beach) certainly agrees with that premise, but he thinks his colleagues are going about it the wrong way and calls SB 1322, as he puts it, "the legalization of underage prostitution."
"Pimping and pandering will still be against the law whether it involves running adult women or young girls. But legalizing child prostitution will only incentivize the increased exploitation of underage girls," he wrote in a Thursday op-ed blasting liberal policies in general (California's legislature is dominated by the Democratic Party). "Immunity from arrest means law enforcement can't interfere with minors engaging in prostitution — which translates into bigger and better cash flow for the pimps. Simply put, more time on the street and less time in jail means more money for pimps, and more victims for them to exploit."
Former Republican Congressman Joe Walsh also decried the law.
In case you were wondering just how messed up California Democrats are, there's this. Smh. https://t.co/KeC5ygLolm

— Joe Walsh (@WalshFreedom) December 30, 2016
The law still gives officers the power to put minors in temporary custody if certain conditions are met: such as if the child panhandles in a public area, solicits lewd or lascivious or other unlawful acts in public areas like restrooms, or is found in a public place intoxicated; or if an officer has probable cause to believe a felony has been committed.
[Screengrab of San Diego human trafficking protest via NBC 7]
Have a tip we should know? [email protected]