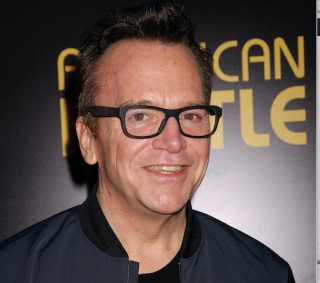 Actor Tom Arnold just used social media to openly solicit/encourage hackers to dig up dirt on Donald Trump. He even provided an IP address that his followers could use to find potentially damaging tapes from when Trump was on The Apprentice. Some have already accused Arnold of getting himself into some dangerous legal waters. So we wanted to know, could he get in trouble? We spoke with experts who said he probably won't get charged under federal law despite openly soliciting hacks.
First, a little background. Earlier this year, Arnold said that he had "the outtakes to The Apprentice where (Trump) says every bad thing ever, every offensive, racist thing ever. I have it." He said the reason that he can't release it is because of a "$5 million confidentially agreement." This week, Arnold tweeted out an IP address for MGM that he claimed contained 14 years of Apprentice footage. He said he was doing this for America.
Gamers. One more challenge. Behind here is 14 years of Trump Apprentice footage. Gonna do this the hard way. For America.#unlocked pic.twitter.com/bAVLLa89rX

— Tom Arnold (@TomArnold) December 30, 2016
He also encouraged "gamers" to hack into a WordPress site in order to obtain Trump's tax records:
Hey gamers here's a challenge. Trumps taxes are behind this door. Let's Make America Great Again pic.twitter.com/Fo2xJ7yIld

— Tom Arnold (@TomArnold) December 30, 2016
From what I gather from Trump & his supporters hacking (like Russia did to DNC & Podesta) is cool as long as it reveals the truth. Agreed?

— Tom Arnold (@TomArnold) December 30, 2016
So could Arnold be opening himself up for criminal consequences? Well, under federal law, probably not. Former federal prosecutor Bill Thomas broke it down for us like this:
Tom has not crossed the line here.  There is no federal statute that prohibits a general solicitation of conduct that may be arguably criminal. There are some statutes that specifically prohibit the solicitation of specific crimes. My research doesn't indicate that hacking is one of them. Even if there were a statute that could be construed to prohibit this type of conduct, given the context of Mr. Arnold's comments, any prosecutor seeking to prosecute a crime here would be dangerously close to running afoul of the First Amendment.

If the facts were more specific, that is, if Mr. Arnold sought out a specific individual to take specific acts to hack, this would be problematic. Mr. Arnold could then be prosecuted and punished under a theory that he conspired to commit certain acts or that he aided an abetted certain acts. Generally, the law punishes conspirators and aiders and abettors just as if they committed the underlying crime.
However, that doesn't mean he's out of the legal dog house. Based on Arnold's own tweets, it looks like the Trump camp might be discussing a possible suit.
Wife heard VM & was upset. I tweeted."its on" called lawyer. VM is actually Yahoo rep"with Trump camp discussing def suit" They aren't dumb. https://t.co/zvuRJGEkvh

— Tom Arnold (@TomArnold) December 30, 2016
We've also reached out to Arnold to get more information about this potential lawsuit that he is referencing on social media. We will keep you posted if we hear back. Clearly, if anyone followed through and attempted or did hack MGM, or the WordPress site, they would be committing a federal crime. That's much different than talking about it on Twitter. We've reached out to some more experts on cyber security and federal law. If they respond to our questions, we will update this post.
[image via Shutterstock]
Have a tip we should know? [email protected]
Rachel Stockman - President / On Air Host