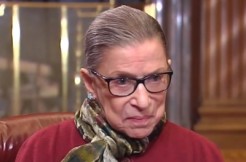 On Wednesday, scientists at The Cleveland Museum of Natural History said they named a new species of praying mantis after the U.S. Supreme Court Justice, Ruth Bader Ginsberg.
She's being honored for "her relentless fight for gender equality," according to a press release. The bug is now called Ilomantis ginsburgae, and is found in Madagascar.
Scientists are touting a new way to identify praying mantis species: using female genitalia. Before you go, "that sounds weird," note that up to now, researchers often used male junk for categorization purposes. No joke!
Researchers hope focusing on females will make bug categorization easier.
"As a feminist biologist, I often questioned why female specimens weren't used to diagnose most species," said lead researcher Sydney Brannoch. "This research establishes the validity of using female specimens in the classification of praying mantises. It is my hope that our work not only sets a precedent in taxonomy but also underscores the need for scientists to investigate and equally consider both sexes in other scientific investigations."
The namesake makes sense. For example, before becoming a judge, Ginsberg co-founded both the Women's Rights Project at the ACLU, and the first law review on women's issues. She speaks about women's issues to this day.
"My mother told me two things constantly," she said. "One was to be a lady, and the other was to be independent."
–
Follow Alberto Luperon on Twitter (@Alberto Luperon)
Have a tip we should know? [email protected]