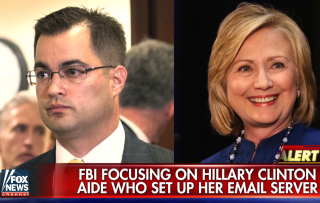 Federal judge Emmet G. Sullivan postponed the deposition of Clinton IT specialist Bryan Pagliano and ordered that he reveal details of his immunity agreement with the federal government. Pagliano is widely believed to be the one who set up and maintained former Secretary of State Hillary Clinton's private email server. Pagliano reportedly struck an immunity deal with the U.S. Department of Justice as part of the ongoing federal investigation into Clinton's email server.
The judge demanded that Pagliano's attorneys file a brief "addressing the legal authority upon which Mr. Pagliano relies to assert his Fifth Amendment rights in this civil proceeding." Pagliano was set to be deposed in a separate civil FOIA lawsuit filed by the conservative watchdog group, Judicial Watch. In court paperwork filed Friday, Pagliano's attorney said that he "will assert the Fifth Amendment and will decline to answer each and every question." Pagliano's lawyers also requested an order preventing the group from videotaping him asserting his Fifth Amendment rights.
"The very existence of an audiovisual recording presents a risk that the video will eventually be exploited to create a widely broadcast public inference of guilt," Pagliano's attorneys wrote in a court filing. Pagliano also feared that such a recording could have a "potential tainting effect on the jury pool in a potential government enforcement action."
Before making a decision, the judge demanded to know more about Pagliano's alleged immunity deal with the feds. Pagliano must respond to the judge's request by Tuesday. Stay with LawNewz.com for developments on this story.
Have a tip we should know? [email protected]
Rachel Stockman - President / On Air Host