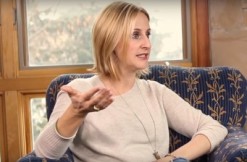 Backlash against Katie Couric's gun control documentary, Under the Gun, may not end soon. At first, opponents criticized a moment where she asked the Virginia Citizens Defense League a question about background checks. The final edit added seconds of silence before their answer, depicting them as dumbfounded, unable to produce an immediate answer. Couric apologized for that. But there's another revelation that has stoked the anger of gun rights people.
In an interview with The Lip TV, Under the Gun director and producer Stephanie Soechtig says she had one of her employees cross state lines to buy a firearm. Here's the video, obtained by Ammoland:
"He was from Colorado," she said. "He went to Arizona, and was able to buy a Bushmaster, and then three other pistols without a background check in a matter of four hours." She said her employee met the seller in the parking lot of a Wendy's. According to her, the "Bushmaster" was the same type used in the Sandy Hook school shooting that left 20 children and six adults dead. If so, that would've been a Bushmaster XM15-E2S .223 caliber semiautomatic rifle, a descendant of the AR-15. She claims this purchase was legal.
The video caught the attention of a couple of conservative commentators, all of them calling Soechtig's actions a crime.
"Presumably, this crime was committed in order to highlight what the film's proponents believe to be current inadequacies [in] federal firearm laws, and to educate viewers on the process for obtaining a firearm," said Ammoland.
But they made their story all about the possibility that Soechtig broke federal law:
Under current federal law it is a violation for any person to transfer, sell, trade, give, transport, or deliver any firearm to any person who the transferor knows or has reasonable cause to believe does not reside in the state in which the transferor resides. (18 U.S.C. § 922(a)(5).) Thus, by asking a private party in Arizona to sell the Colorado producer firearms, Ms. Soechtig and her staff induced an otherwise law abiding citizen to commit a federal crime. There was nothing legal about what Ms. Soechtig and her staff did, despite their slanted attempt to portray in their documentary the private sale of firearms as unregulated and legal.

It is also unlawful for any person other than a dealer to transport into or receive in the state where they reside any firearm purchased or otherwise obtained outside that State. (18 U.S.C. § 922(a)(3).) Violations of these laws can result in a hefty fine and a felony conviction of up to five years. (18 U.S.C. § 924(a)(1)(D).) Further, if two or more persons conspire to commit any offense, and at least one person commits an overt act in furtherance of the conspiracy, each party to the conspiracy can also face an additional fine and imprisonment for up to five years. (18 U.S.C. § 371.)
Sean Davis at The Federalist pretty much made the argument.
A spokesperson for Couric declined to comment to LawNewz.com, but Soechtig did respond:
While it may seem hard to believe that one could buy these types of guns this easily, all purchases in the film were made completely legally. Arizona law allows out-of-state residents to buy long guns (i.e. rifles, shotguns, military style assault rifles) from a private seller without a background check. It also allows Arizona residents to buy handguns from a private seller without a background check.

We demonstrated both versions of this dangerous loophole in the film on a hidden camera, in full compliance with both state and federal laws. The rifles – including an AR-15, the gun used to massacre 20 first graders – were purchased by an out of state resident. The handgun was purchased by an Arizona resident.

These guns were then turned over to law enforcement and destroyed. They never left the state of Arizona.
Rachel Stockman contributed to this article.
Update — June 4, 4:38 p.m. EST: Added a statement from Soechtig.
–
Follow Alberto Luperon on Twitter (@Alberto Luperon)
Have a tip we should know? [email protected]