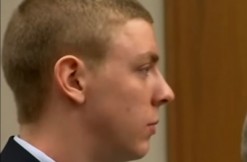 Good news: Mercury News columnist Scott Herhold is more famous than ever on social media. Bad news: It's because he made a dumb argument. On Thursday, he put out an opinion piece saying that former Stanford University swimmer Brock Turner should only get a six-month jail sentence, not a longer one in prison. What did Turner get in trouble for? Just outside a frat party, he sexually assaulted another student by a dumpster. She was unconscious.
He was convicted in March by a Santa Clara County jury.
Like a good defense attorney, Harhold is arguing for a short sentence: Turner, a first-time offender, acts remorseful, and other factors seem to be at play. But now, as a colleague of mine put it, Harhold is "getting shredded on social media."
This, ladies & gents, is what a rape apologist looks like. @scottherhold. https://t.co/zGn5Q2oYBh

— Robert Graves (@RobertGravesLA) June 4, 2016
It's a popular thing on Twitter dot com to say "I found it, I found the worst take." But seriously. Look no further https://t.co/KdpMpLNt7C

— Your Conscience (@tarintowers) June 4, 2016
After I read that victim impact statement, I read @scottherhold's column and I got so mad I had to leave the room. https://t.co/MDHiVN83Ll

— southpaw (@nycsouthpaw) June 3, 2016
"We"? I'm sorry, Scott Herhold, were you the one raped that night? https://t.co/70vH0BxsyA #BrockTurner pic.twitter.com/3p2K2FpNpj

— Stephanie Lucianovic (@grubreport) June 3, 2016
And Scott Herhold's column for the Mercury News on Turner is complete trash that I won't link to but here's a sample pic.twitter.com/VeDAiA0sv0

— Caitlin Kelly (@caitlin__kelly) June 3, 2016
.@mercnews, you shouldn't have published this column sympathizing with a rapist. https://t.co/uFrvFQ8n9v

— Lauren Nostro (@laurennostro) June 3, 2016
Other critics have dominated the article's comment section.
In the abstract, I get the core of Herhold's argument. Giving him the benefit of the doubt, I respect the intent. It might be satisfying to send bad guys away for as long as possible, but when we stop empathizing with perps, we undermine the most important part of the legal system. It must be merciful when possible. When judges and juries look at defendants, they must remember the phrase, "There but for the grace of God go I."
So commentators like Herhold are necessary. It's necessary for someone to make these kind of statements—within reason. The problem is how he makes his argument.
Turner's defense argued for a shorter sentence with probation, but prosecutors tried to slap it down because the woman was unconscious during the crime.
"The fact that the defendant preyed upon an intoxicated stranger on a college campus should not be viewed as a less serious crime than if he were to assault a stranger in downtown Palo Alto," Deputy District Attorney Alaleh Kianerci told Judge Aaron Persky.
Herhold's counter to this is weak and troubling.
In the abstract, Kianerci is right. We should not give people breaks because they go to Stanford. But it is hard to judge this case apart from its context. And that context has messy elements that a summation of the charges misses.
The way Herhold handles this "context" smacks of rape apology by highlighting the woman's apparent drinking history.
"Both [Turner and the woman] were drunk," he wrote. "The woman was so drunk that she does not remember what happened. On the stand, she acknowledged having blacked out on several previous occasions while drinking." Later, he blames "the culture of campus drinking, the unindicted co-conspirator here."
Like a defense attorney fighting for a lesser sentence, Herhold shifts blame onto the victim, and the perp's environment. And like a prosecutor, I'm going to tell you why he's wrong.
What a tactless, silly move citing the woman's apparent drinking history. Why do people keep saying things like this? Sexual assault is pretty much the only crime where people shift doubt onto the victim. You don't walk up to someone who has been mugged and say, "You shouldn't have have walked around with such a nice jacket." Try talking about a stabbing victim like, "Well, his back did present a nice, wide target."
As a society, can we retire that victim-blaming argument already? It's terrible and beside the point. Stop.
Plus, it's not really possible to downplay Turner's actions just because he apparently feels bad about it. Plenty of criminals feel bad about getting caught. From Herhold's article:
"I would give anything to change what happened that night." Turner wrote in a statement to probation authorities that was quoted in a defense brief. "I can never forgive myself for imposing trauma and pain on (the victim)."
Then again, this convinced Herhold.
The probation people cite his lack of a criminal record and what they see as genuine remorse. His attorneys have argued that the ex-swimmer has a record of real accomplishment.
Why does it matter if Turner has accomplishments? Swimming has nothing to do with the conviction at hand. Financier Jeffrey Epstein, and former Congressman Dennis Hastert are both "accomplished" people. They've also admitted to horrible things.
Turner was convicted of three felonies. Not misdemeanors. Felonies: assault with intent to commit rape of an intoxicated or unconscious person, sexual penetration of an intoxicated person, and sexual penetration of an unconscious person. You can't blame "culture" on this. Cultures aren't simply ideas in that air. These aren't mere abstractions. Cultures are formed by people, and the things they do.
We all must be responsible for the bad things we do. Brock Turner sexually assaulted an unconscious woman by a dumpster. That's what he did.
A prison stay sounds right to me, but he won't be getting one. The judge announced the sentence shortly after Herhold's article was published. Turner will only get six months in jail, and three years of probation.
The woman shredded this sentence in a letter to the judge, published Friday.
I told the probation officer I do not want Brock to rot away in prison. I did not say he does not deserve to be behind bars. The probation officer's recommendation of a year or less in county jail is a soft time-out, a mockery of the seriousness of his assaults, and of the consequences of the pain I have been forced to endure. I also told the probation officer that what I truly wanted was for Brock to get it, to understand and admit to his wrongdoing.

Unfortunately, after reading the defendant's statement, I am severely disappointed and feel that he has failed to exhibit sincere remorse or responsibility for his conduct. I fully respected his right to a trial, but even after twelve jurors unanimously convicted him guilty of three felonies, all he has admitted to doing is ingesting alcohol. Someone who cannot take full accountability for his actions does not deserve a mitigating sentence. It is deeply offensive that he would try and dilute rape with a suggestion of promiscuity. By definition rape is the absence of promiscuity, rape is the absence of consent, and it perturbs me deeply that he can't even see that distinction.
–
Follow Alberto Luperon on Twitter (@Alberto Luperon)
Have a tip we should know? [email protected]