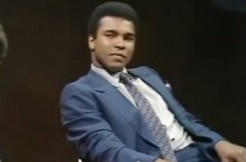 If it was just a matter of boxing prowess, Muhammad Ali wouldn't be a legend. The public forgets plenty of talented fighters. What made him immortal was the combination of personality and social conscience. He wasn't a politician, but people treated him like one because of his charisma, and willingness to get in trouble for what he believed in.
He proved that last detail on April 28, 1967, when he was arrested for draft evasion. Ali had signed up with the Selective Service in 1960, but he changed a little in the interim years. He dropped his birth name Cassius Clay. Joined the controversial Nation of Islam. In January, 1967, a Kentucky draft board denied his application to be classified as a conscientious objector, and he promised to appeal that decision in federal court. Put a pin in that detail. We'll come back to that shortly.
Like a lot of men at the time, authorities called his number for the draft. Ali only half-cooperated, though. He in fact showed up to an Army induction center in Houston on April 28, 1967. That's as far as he went. He never stood forward when they called his name. Strangely, he wasn't arrested, and never learned why, according to author Michael S. Foley.
Ali's reasons for resisting the draft, largely based on religion and race, is often quoted. From a New York Times report:
"My conscience won't let me shoot my brother or some darker people," he told reporters. "And shoot them for what? They never called me n—-r."
Federal authorities later convicted him on June 20, 1967 of draft evasion, however, according to a History.com report. This caused the 25-year-old all sorts of problems. He faced a five-year sentence behind bars, a $10,000 fine, and a three-year ban from boxing. Though his attorneys kept him out of prison by appealing the case, his boxing career took a hit. The WBA stripped him of their heavyweight championship belt, and so did WBC likewise sometime.
There was over a three year gap between his March 22, 1967 fight against Zora Folley, and his return bout against Jerry Quarry on October 26, 1970. But was still the matter of the prison sentence.
His attorneys fought the conviction, fighting and losing through the federal court system. They initially failed to overturn it thanks to a 1968 decision from the 5th United States Circuit Court of Appeals, but there still remained the Supreme Court.
The 1971 case: Clay v. United States. The court looked at whether the Kentucky draft board made a correct decision in denying Ali's contentious objector application. Untangling the complicated battle waged since the initial denial, they ruled, yes, there was a mistake.
From the opinion:
And, the Government's concession aside, it is indisputably clear, for the reasons stated, that the Department [of Justice] was simply wrong as a matter of law in advising that the petitioner's beliefs were not religiously based and were not sincerely held.
This decision threw out the conviction for draft evasion.
Ali retired from boxing after his last bout in 1981, and died Friday, after suffering from respiratory problems. He is survived by nine children.
–
Follow Alberto Luperon on Twitter (@Alberto Luperon)
Have a tip we should know? [email protected]