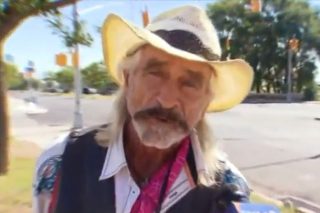 Tod "Doc" Mishler, an 80-year-old who fancies himself a cowboy, was arrested back in June after he took two horses across a bridge in Staten Island, New York. He signed a waiver to allow a vet to examine the animals, only to be arrested again for animal cruelty. Now, Mishler is looking to sue for $50 million because he claims his horses were wrongfully taken from him, the Staten Island Advance reported.
When Mishler made his equine trek across New York's Outerbridge Crossing earlier this year, he blocked car traffic and ended up in legal trouble. Additional trouble came in the form of four counts of torture/not feeding an animal, police told PIX11 News at the time. Both horses, named Hope II and Charity II, allegedly suffered from sores, malnutrition, and dehydration, with Hope II having an untreated infection as well.
Mishler has filed a notice of claim against the City of New York, the Parks Department, the Staten Island District Attorney, and the New York Police Department. A city Law Department spokesperson told DNAinfo that the city will review the notice. Mishler is claiming that the horses have been falsely imprisoned, and that he himself has improperly deprived of his right to travel. His attorney, Richard Luthmann, told DNAinfo, "It's our theory was that his horses were targeted prior to coming with Staten Island," and that [t]here was chatter with very specific people on Staten Island that Doc was coming."
Mishler reportedly rides his horses around the country in an effort to raise money for hungry children. He was spotted in Annapolis, Maryland last September.
[Image via PIX11 News]
Have a tip we should know? [email protected]