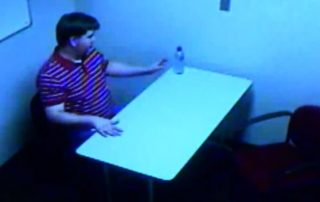 On Friday, Detective Phil Stoddard, the lead detective in the investigation of Justin Ross Harris, testified before the court in Brunswick, Georgia. Harris is accused of intentionally leaving his 22-month-old son Cooper in a hot car to die. Harris claims it was a tragic accident. During Stoddard's testimony, the prosecution played video of Harris in the police interrogation room on the day of Cooper's death.
Before the interview began, Harris was recorded by himself in the room. At the beginning of the tape, Harris seems rather calm, but then he suddenly starts wailing and crying.  In the courtroom, Harris partially covered his eyes, as if he was having difficulty watching the video.
Watch the full interview below:
The questioning begins about 18 minutes in, and it goes into what Harris did that day, then goes into his family a bit more, as well as a discussion about the car seat that Cooper was in that day.
Later on, at about the 1:23:15 mark, Harris talked about how he heard about a similar situation on the news, and that leaving a child in a hot car was a fear of his. He also mentioned seeing a video about a vet talking about the effect a hot car can have on a pet. Before the trial started, much was made over Harris viewing these videos, and it was made to seem like he had actively researched hot car deaths. In the video, however, Harris appears to mention it just to show that he's aware of the possibility of hot car deaths, which is why he can't believe he did it. "The worst fear for me is to leave my son in a hot car," Harris said. How he came to see the videos in the first place remains unclear.
At the end of the video, police told Harris that they were looking to charge him, at least with cruelty to a child. Harris insisted that he did not do this intentionally, and pointed out that he has no history of child abuse and no criminal record. He added that he has also worked in law enforcement and is a great father. "I understand that there's an incident that happened … there are certain criminal statutes that you have to look at," Harris acknowledged, but maintained that what happened was an accident. He took issue with the cruelty to children charge because it implied that what he did was intentional. Not only did he say that he didn't mean to kill Cooper, he said that he didn't even leave him in the car on purpose thinking that his son would be ok there.
The officer told Harris that by not taking Cooper to day care and leaving him in the car, he caused his son's death. "I disagree slightly," Harris responded. When asked to elaborate on that, Harris finally said, "I'd rather not talk anymore," and said he wanted a lawyer since he was being charged with a crime.
The jury will surely have plenty of thoughts on all of this, but there is a lot left to go in this trial. Stay with LawNewz for continuing live streaming video coverage of the case featuring live legal analysis.
Have a tip we should know? [email protected]