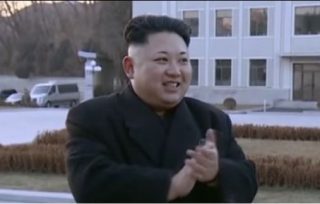 Apparently people in China have been making fun of nearby North Korean Kim Jong-Un's weight, and the Chinese government is having none of it.
North Korean officials asked China to ban unflattering nicknames for their leader in the media. As a result, Chinese websites are censoring popular names for Kim Jong-Un like "Kim Fatty the Third."
You can't make this stuff up, folks.
"We disapprove of any country with insulting and mocking remarks," Chinese Foreign Ministry spokesman Geng Shuang said, according to Sky News. Chinese search engine Baidu had reportedly stopped turning up results for certain nicknames, but still showed results for others, such as "Kim Fat Fat Fat."
[Screengrab via CNN]
Have a tip we should know? [email protected]