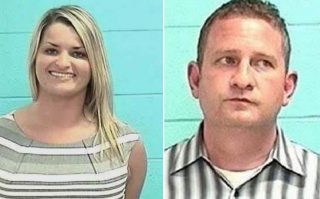 Two lawyers have been sentenced after lying to police about the nature of a car accident they were involved in. Heather Wilsey and Kenneth Lewis got in a collision over the summer when they pinned it on a black man who gave them a ride from a bar. The problem was that after investigating, police realized that the supposed driver didn't exist.
Video footage from the bar showed Wilsey and Lewis get in a car just the two of them, with Wilsey in the driver's seat. After they crashed, Lewis told officers who responded to the scene that a black man was driving them, and that he fled after the collision. Wilsey backed him up. Wilsey was trying to avoid potential drunk driving charges, according to The Chronicle-Telegram.
Wilsey pleaded no contest to obstructing official business and failure to maintain physical control, as part of an agreement with prosecutors to drop a DUI charge. She is also required to abide by the terms of a three-year order of good behavior. During that time, she is forbidden from drinking alcohol. If Wilsey violates the order, she could end up with 80 more days in jail. "I would just like to apologize," Wilsey said in court. "First to the Elyria Police Department, also to the city of Elyria and its citizens and the legal community."
Lewis pleaded no contest to obstructing official business last month and was also sentenced to 10 days in jail. Both attorneys might be subject to sanctions from the Ohio Supreme Court, after the Lorain County Bar Association filed an ethics complaint against them.
Have a tip we should know? [email protected]