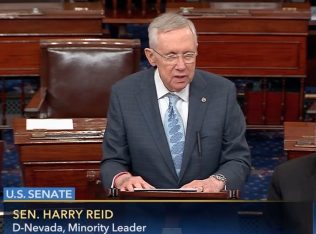 Throughout the lengthy 2016 election campaign retiring Nevada Senator Harry Reid has decided to become even more shameless than many thought possible, even for him.  Perhaps as a result of knowing he'll never be on another ballot, Sen. Reid has become the chief bomb thrower from the Democratic Party.  In this role, Sen. Reid has made numerous comments that are at the very least borderline defamatory about Donald Trump and members of his campaign team.
Some might question why nothing has been done about this? Especially since we've now elected a President who is not at all shy about threatening/taking legal action. The answer: Reid (and all members of Congress) are basically immune from legal action for statements made in the course of the legislative process — whether on the floor of the Senate or in committee hearings.
Most recently, Senator Reid took to the floor of the United States Senate and directly addressed Trump's decision to move Breitbart News executive Steven Bannon from his campaign team to his White House team. Sen. Reid said the appointment of Bannon shows Trump's willingness to "plac[e] a champion of white supremacists a step away from the Oval Office." He also referred to Bannon as "a champion of racial division" who is about the become the chief strategist in a Trump White House.
WATCH:
Sen. Reid's remarks about Bannon (as well some similar statement by CNN commentators and the SPLC) were dismissed as over the top by a pair of high profile commentators who are not exactly strong allies on most political issues.  In fact, you'll probably be shocked to see they sort of came to Bannon's defense.
First, conservative writer and host Ben Shapiro, wrote in an article on Wednesday saying, although he disapproves of some of Bannon's choices, "the allegations they've made about Bannon are unsupported by evidence."
Shapiro previously worked for Bannon for a number of years at Breitbart.
"It's not enough to say that Steve is a nasty human being (he is) . . . or that he pandered to the despicable alt-right at Breitbart News and mainstreamed them by doing so (he did)," Shapiro added. "No, they have to claim that he's Goebbels. They claim that he's personally anti-Semitic and racist and a white nationalist and anti-Israel, without evidence."
Lest you think it is only conservative learning folks coming to Bannon's defense, the much more liberal law professor Alan Dershowitz also expressed similar sentiments to those of Shapiro regarding the reaction to Bannon's hiring.
In an interview wth LawNewz.com, Dershowitz said has not "seen any evidence of anti-Semitism at Breitbart or from Bannon.  Dershowitz also pointed out the highly criticized article "Bill Kristol Republican Spoiler, Renegade Jew" was even written by Jewish author, David Horowitz.
Reid's reaction to Bannon also brings back reminders of how he treated 2012 Repubican Presidential nominee Mitt Romeny.
During the 2012 presidential campaign, Sen. Reid again took to the floor of the United States Senate to claim, "The word is out that [Mitt Romney] hasn't paid any taxes for ten years."  Sen. Reid then shifted the burden to Romney to "prove that he has [had] paid taxes."
Years later, after Romney lost the election, Sen. Reid finally admitted he made the entire thing up!  In other words, Sen. Reid used his position as the most powerful man in the Senate to knowingly lie about a political opponent, going as far to suggest that opponent may have done something illegal.
Every time you think Sen. Reid stoops to an all-time law, he only manages to find a way to go lower.
Now, some of you may be wondering why don't some of Reid's possible slander and defamation victims try taking him to court?
Well, when it comes to making statements from the floor of the Senate (or House of Representatives), constitutional law professor Allen Rostron explained to LawNewz.com that the speech and debate clause in Article 1, Section 6 of the Constitution provides absolute immunity for members of Congress from civil and criminal liability for things they say in speeches or debates on the floor of the Congress.
That protection also extends to other matters related to legislative work, such as statements made in a committee hearings or reports, according to Rostron.
"So to the extent that Reid made the statements in a speech on the Senate floor, he is protected by the speech or debate clause and any sort of defamation claim against him for that speech would fail," Rostron explained.
This absolute protection from civil liability likely explains why Sen. Reid generally makes his most inflammatory attacks and statements about political opponents from the Senate floor.  He knows it makes him essentially untouchable, in a legal sense.
[image via screengrab]
This is an opinion piece. The views expressed in this article are those of just the author.