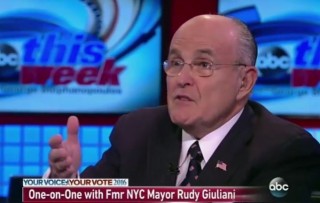 OpenSecrets.org is a nonpartisan nonprofit organization which tracks money in U.S. politics
We continue our series on the money-in-politics histories of candidates for Donald Trump's future Cabinet by looking at those who have been mentioned as possibilities to run the State Department. (See our earlier analyses on prospects for Treasury and Defense.)
Spoiler: None of the State contenders donated a nickel to Trump's campaign.
Rudolph W. Giuliani: The former New York City mayor badly wants the top diplomatic post, though he'd be a controversial choice given his lack of foreign policy experience. Despite Giuliani's unwavering support for Trump in the face of his scandals, though, there was no concomitant support from Giuliani's wallet. This year, the only candidates he gave to were Sen. John McCain (R-Ariz.), House Speaker Paul Ryan (R-Wisc.) and Rep. Dan Donovan (R-N.Y.).

Giuliani joined the Texas lobbying firm Bracewell & Giuliani (formerly Bracewell & Patterson) as a partner in 2005, the year in which its annual lobbying revenue increased from $4.7 million to $6.8 million. (The firm also expanded and opened a New York office.) Giuliani left Bracewell last January to join the firm Greenberg Traurig's cybersecurity and crisis management group and as senior adviser to the chairman. He's now on leave.
CNN reports that past lobbying ties and potential conflicts of interest are holding up the process. From 2005 to 2007, Bracewell & Giuliani received $100,000 to $200,000 to lobby on behalf of Citgo Petroleum Corp, a Houston-based oil company controlled by the former Venezuelan President Hugo Chavez, although the firm said Giuliani did no work for that client. A subsidiary of Giuliani's consulting firm, which he ran while also working for Bracewell, was a security adviser for Qatar's state-run oil company. In addition, Giuliani was a paid advocate for an Iranian dissident group, Mujahideen-e Khalq (MEK) at the time the State Department named it as a foreign terrorist organization. Giuliani has never registered as a lobbyist.
When Giuliani ran for president in 2008, he raised $59 million, more than any other Republican if contributions from Mitt Romney to his own campaign are excluded. The companies whose employees and PACs gave the most to Giuliani include Ernst & Young ($293,000), JPMorgan Chase & Co. ($248,000) and Merrill Lynch ($216,000.) Wall Street, retirees and lawyers and law firms supported him most heavily.
John Bolton: George W. Bush made a recess appointment to install Bolton as U.S. ambassador to the United Nations in 2005 after Democrats filibustered his nomination. He left the position shortly before his appointment ended a year later after Democrats seized the Senate. Bolton then became a senior fellow at the right-leaning think tank American Enterprise Institute and a senior adviser for Freedom Capital Investment Management.
Bolton did not give to Trump. This cycle, he did give $10,000 to his own John Bolton PAC, which donated $590,000 to 100 percent GOP congressional candidates. He funneled another $10,000 to the John Bolton Super PAC, which spent nearly $2.6 million backing Republicans in the contentious New Hampshire, North Carolina and Nevada Senate races. (Democrats won in New Hampshire and Nevada.)

Sen. Bob Corker (R-Tenn.): As chairman of the Foreign Relations Committee, Corker has experience examining U.S. foreign policy and trade agreements. Since his election in 2006, Corker's campaign and leadership PAC, Rock City PAC, raised $36.4 million, with $5.3 million of that coming from his own pocket. (In 2014, he was the sixth richest senator, with an estimated net worth of $45.4 million.) Over his career, he's received the most funds from employees and PACs of the Tennessee law firm Miller & Martin ($137,000), private equity firm Welsh, Carson, Anderson & Stowe ($112,000) and petroleum company Pilot Corp ($111,000). His top industry backers are Wall Street ($1.8 million), real estate ($1.8 million) and retired individuals ($1.6 million.)
Corker and his wife Elizabeth did not contribute to Trump's campaign. Neither of them personally has given a political donation since 2006, contributing to the past campaigns of George W. Bush and his father, George H. W. Bush. But Rock City PAC gave out $235,000 this cycle to Republican candidates for Senate. (His campaign committee did not dole out any additional funds to lawmakers or presidential contenders.)
Newt Gingrich: The House speaker in the mid-1990's and a presidential candidate in 2012, Gingrich maxed out his donations the past two cycles to himself and John McCain, but decided to sit this election out as far as contributions were concerned.
As OpenSecrets Blog reported when Gingrich was being considered for the vice presidential slot under Trump, he raised $23.6 million for his failed presidential bid. Although he dropped out of the race in April of 2012, he still had $4.6 million in debt — which, according to a debt settlement plan the campaign filed in August with the FEC, he doesn't plan to pay back. The FEC found this plan didn't meet the law's requirements, and one of the vendors, Gordon C. James Public Relations, who was owed $128,000, rejected the terms in a letter to the FEC.
"Nothing is not a settlement offer," the letter reads. "Courtesy, if not regulation, would dictate that Newt 2012 at least send a letter explaining the form and its actions to its creditors."
Looking at his contributors, retired workers, Republican/conservative individuals and groups and health professionals were the most generous to Gingrich. His biggest donors were employees of packaging company Rock-Tenn Co., including former CFO Steven Voorhees and former CEO James Rubright; people affiliated with casino company Las Vegas Sands', like its CEO Sheldon Adelson and current president Robert Goldstein; and Poet LLC founder Jeff Broin and others who work for the biofuel maker. Winning Our Future, the single-candidate super PAC backing Gingrich, received big infusions of cash from Adelson and his wife Miriam, and wound up spending $17 million to help him win.
Zalmay Khalilzad: The former U.S. ambassador to the United Nations, Afganistan and Iraq (all under President George W. Bush) actually supported one of Trump's rivals, giving $8,000 to former Florida Gov. Jeb Bush's super PAC, Right to Rise USA, and $2,700 to Bush's campaign. He didn't contribute to Trump. Khalilzad's donations overall, at least at the federal level, have been sparse. He  gave $2,500 to Romney in 2012 and $500 to Bob Dole, the GOP presidential nominee in 1996. Khalilzad founded a global advisory firm called Gryphon Partners, whose employees gave to John Kasich and Hillary Clinton this year. Like their boss, they neglected Trump.
This article was written by Ashley Balcerzak  for OpenSecrets.org, and reprinted with permission by LawNewz.com. The original version of the story appeared here. OpenSecrets.org is a nonpartisan nonprofit organization which tracks money in U.S. politics
Have a tip we should know? [email protected]