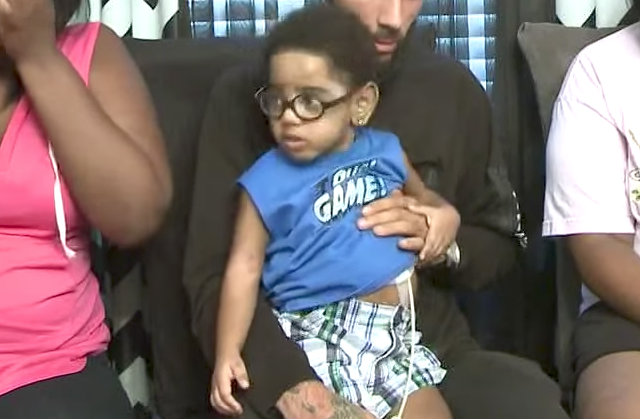 Media reports said earlier this month that a hospital postponed an organ transplant for two-year-old A.J. This child was born without kidneys, but his father Arthur Dickerson, a perfect match to donate, had been accused of violating probation. A surgery was scheduled for early October at Emory Hospital in Atlanta, but hospital administrators reportedly chose to reschedule for January, even though Arthur was released before a pre-operation appointment. Now it turns out that the toddler was hospitalized Sunday morning, suffering from a peritonitis infection.
Attorney Mawuli Davis represents A.J., Arthur, and the boy's mother Carmellia Burgess. He told Law Newz in an exclusive interview Sunday afternoon that the toddler is being treated at Egleston Children's Hospital, across the street from Emory. He said A.J. undergoes daily dialysis. What caused the infection remains unclear, he said.
(This condition affects the membrane covering the abdominal cavity, and threatens the internal organs.)
Davis said they've been talking with Emory's legal counsel for 12 days, but the other side hasn't budged. He claimed the hospital hasn't been clear about precisely why administrators insisted on postponing the surgery.
Their case got enough attention that Carmellia's GoFundMe page beat her $7,000 goal for financial help. Also, Harvard Law Professor Laurence Tribe publicly offered legal advice. Davis told Law Newz they will get in touch with him.
Just saw this MSNBC story on @TheRevAl & wd be glad to offer pro bono legal advice to boy's family if they send a DM https://t.co/LpjhKFhKnh

— Laurence Tribe (@tribelaw) October 29, 2017
Nonetheless, Davis said he's unsure if there is a legal avenue to suing the hospital.
"Quite frankly, we don't know if baby A.J. has that kind of time," he said.
Emory spokespeople have all but declined to comment on the case. They cited patient confidentiality rules when WXIA reached out earlier this month. As the outlet put it, reporters asked "a general question about how someone being arrested impacts the possibility of donating a kidney." Once again, the hospital stayed mum.
More recently, Emory spokeswoman Janet Christenbury told the Atlanta Journal-Constitution that "Guidelines for organ transplantation are designed to maximize the chance of success for organ recipients and minimize risk for living donors. Because of privacy regulations and respect for patient confidentiality, we cannot share specific information about our patients."
Law Newz reached out to the hospital for follow up. They submitted a copy of their statement on kidney transplant background information.
"As is the case with top transplant centers around the country, Emory Healthcare's decisions about
organ transplantation are in accordance with guidelines issued by the United Network for Organ Sharing (www.unos.org)," the statement said. "UNOS guidelines have been effective in the placement of more than half a million organ transplants, saving lives from all walks of life for more than 30 years. These guidelines consider medical, social, and psychological factors involving both the patient and the living donor."
It said the hospital encourages patients to seek a second opinion if they do not agree with a decision.
A.J.'s supporters plan a vigil outside the hospital Sunday night, Davis said. Congressmen John Lewis (D-GA 5th District) and Hank Johnson (D-GA 4th District) are scheduled to attend.
Update – Oct. 30, 3:09 p.m.: Added a statement from the hospital.
[Screengrab via WXIA]
Have a tip we should know? [email protected]