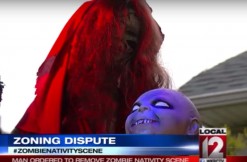 Don't worry, everybody, charges were dropped Tuesday against the Ohio man who put up a zombie nativity scene. We can all relax. Jasen Dixon has made it annual thing to put up a zombie-themed display of the baby Jesus and His family, but Sycamore Township fined him $13,500 in December for 27 citations over the scene.
"This is a victory for freedom of expression and for property rights," said Rob Linneman, Dixon's attorney, after charges were dropped. "A lot of people have looked at this case as a humorous story, but there is a fundamental principal at stake. The real importance of the First Amendment is that it protects unconventional and unpopular viewpoints from persecution."
No judge ruled on this. No serious legal question was clarified by the case. Dixon put up the display anyway after town leaders rejected his application for a permit.
"I think it's the theme," he told CBS Cincinnati in December. "It just rubs people the wrong way, and it puts the spotlight on me. That's why they're coming down so hard on me."
Township Administrator Greg Bickford said they dropped charges Tuesday since the court costs would have exceeded the fines, and besides, Dixon took down the nativity scene the day after Christmas.
"There's no sense in wasting taxpayer dollars going after something that doesn't exist anymore," Bickford said, but he was vague when asked if they'd fine Dixon against for a future display. "We'll cross that bridge when we come to it. If we come to it."
Spoiler alert: Dixon is trying to crowdfund a nativity scene for this year.
[h/t Cincinnati]
–
Follow Alberto Luperon on Twitter (@Alberto Luperon)
Have a tip we should know? [email protected]