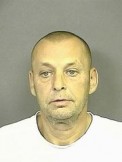 Alan Bienkowski, a New Jersey man on trial for murdering an elderly neighbor with a hammer, took the stand on Tuesday to explain why he could not have committed the crime. According to NJ.com, he claimed he was too busy using and buying heroin.
The defendant, charged with striking the victim with a hammer over a dozen times, tearfully described how a bout with depression in 2013 led to his drug habit, and how he snorts 10 to 15 bags of heroin a day.
Bienkowski stated to the Ocean County jury that the day of the killing, he woke up at 5:30am, snorted some heroin, walked his dog, then came home and did more of the drug. He later went out for errands, including taking his dog to a park and buying more heroin, before staying in for the remainder of the evening.
The defendant's sneakers were stained with blood that tested positively as a match with the victim, although an expert for the defense stated that the pattern and amount of blood are inconsistent with Bienkowski being present at the time of the attack.
[h/t NJ.Com Image via NJ State Police]
Have a tip we should know? [email protected]