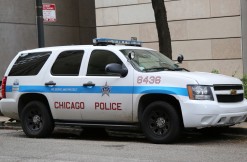 Pro-tip: Don't blurt out racial slurs over the radio while cops are listening. They're gonna want to see you. The Chicago Police Department is looking for whoever ran their mouth over the dispatch system Saturday morning.
Several officers and a 911 dispatcher were talking on the radio when another person got in on their channel, and said "typical f—ing n—ers." It remains unclear if this person was another officer.
The 911 dispatcher had the only reasonable response to hearing that spouted out of nowhere. "All right, you know, okay," she stammered.
An officer, who is black, demanded to know which radio the slur came from.
"You know we don't get radio numbers, but I'm already hollering for my supervisor," the dispatcher said.
But before it was all done, there was another outburst on the channel: "Black lives matter, my ass. Typical f—ing n—ers." It remains unclear if this was the same person as the first time.
You can hear it all in this audio clip, via DNAinfo:
This came about 12 hours after a scheduled rally for Republican presidential candidate Donald Trump, canceled amid reports of protests and fights. Also recall the shooting death of black teenager Laquan McDonald by Chicago police. The 17-year-old was shot 16 times. Critics say this was a massive overreaction on the part of cops, and that Mayor Rahm Emanuel encouraged city lawyers to suppress video of the incident. So this audio clip is coming at a bad time.
Spokespeople for the Chicago Police Department told the New York Daily News on Monday that they are investigating who said the slurs and why.
[h/t DNAinfo]
[image via Shutterstock]
–
Follow Alberto Luperon on Twitter (@Alberto Luperon)
Have a tip we should know? [email protected]