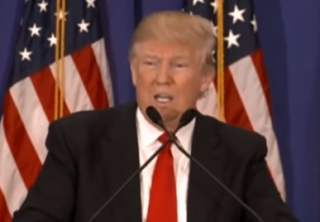 Update 3/14/16 3:12pm: While Sheriff Kevin J. Joyce did go local radio show saying that charging Trump was something his office "had looked at," Department spokesman Sgt. Sean Swain has now told The Daily Beast that Trump's actions do not meet the statute, and they are not pursuing charges.
---
At a Donald Trump rally in Fayetteville, North Carolina, an attendant punched a protester in the face. While the Cumberland County deputies who were at the scene did nothing when it happened (he was charged the next day), the Sheriff's Office said Monday that they may bring charges of inciting a riot against Trump himself, according to WRAL.
North Carolina General Statutes Section  14-288.2(a) defines a riot as:
a public disturbance involving an assemblage of three or more persons which by disorderly and violent conduct, or the imminent threat of disorderly and violent conduct, results in injury or damage to persons or property or creates a clear and present danger of injury or damage to persons or property
Section 14-288.2(d) says that someone is guilty of inciting a riot if they willfully incite or urge another person "to engage in a riot, so that as a result of such inciting or urging a riot occurs or a clear and present danger of a riot is created." Inciting a riot is a class 1 misdemeanor that carries a punishment of up to 45 days in jail for a first offense.
This hasn't been the only Trump event that turned physical. Trump's campaign manager was being investigated on criminal charges after grabbing a reporter. A Chicago rally was canceled on Friday amid security fears resulting from impassioned supporters and enraged protesters.
Trump  denies that he incites or condones violence at his events, going so far as to call them "love fests." "We're not angry people. We're good people," Trump said of himself and his supporters. "We're just tired of a government that is run incompetently."
[h/t WRAL, image via screengrab]
Have a tip we should know? [email protected]