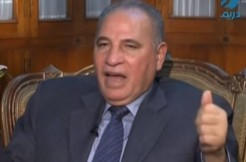 Egypt's justice minister Ahmed al-Zind completely screwed up an interview with TV channel Sada al-Balad on Friday. When asked if he'd arrest journalists who allegedly defamed him by saying he was corrupt, the now unemployed al-Zind said hell yeah.
"Ever if it's a prophet, God's peace and blessing be upon him," he said, referring to the most prominent human figure in Islam. He quickly retracted that statement, realizing he'd said something dumb, but that wasn't enough.
Prime Minister Sharif Ismail fired him Sunday after his law and order boasting caused outrage on social media. Egyptians lashed al-Zind on Twitter with comments like "God will take revenge," and "At least he should be sacked and then put on trial," as reported by the Daily Mail.
Al-Zind's position was never stable to begin with. His predecessor Mahfouz Saber resigned in May after saying judges should only come from upper class backgrounds.
As for him, he's been controversy magnet for a while. While head of the Egyptian Judges' Club, a social group, he pushed out 75 members who supported former President Mohamed Morsi, who had been expelled in a 2013 coup. Once he became justice minister, Al-Zind pushed for a rival Appeals Court judge to be officially reprimanded after an alleged insult. In January 2016, he said he'd have hundreds of thousands of participants of the Muslim Brotherhood, a Sunni organization that has been accused of terrorism, killed in retaliation for the killings of police and military members.
[h/t Daily News Egypt and the Daily Mail]
[image of al-Zind via MEMRI TV screengrab]
–
Follow Alberto Luperon on Twitter (@Alberto Luperon)
Have a tip we should know? [email protected]