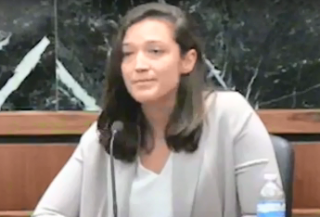 Well that just happened.
In the circus that is the Hulk Hogan v. Gawker sex tape trial, where attorneys have asked about penis size and the plaintiff discussed dual personalities, now the jury is getting into the act.
In Florida, jurors are allowed to ask a witness questions. While Emma Carmichael, former managing editor of Gawker, was on the stand, Judge Pamela A.M. Campbell read questions from the jury for her to answer. In a stunning display of sexism, the second question, seen in the video below, was if Carmichael ever had an "intimate relationship" with former editor-in-chief A.J. Daulerio or founder Nick Denton. Carmichael simply replied, "Nope."
Talk about your double standards! No one asked Daulerio if he ever slept with Denton, which would be more likely, since, you know, Denton is openly gay.
Have a tip we should know? [email protected]