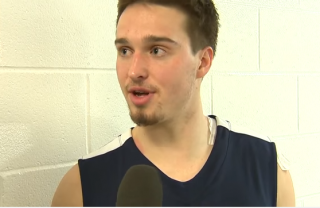 When the Yale Bulldogs take the court in the NCAA Basketball Tournament this week, they'll be without one of the key players who got them to the big dance. Former team captain Jack Montague was expelled in February after allegations that he sexually assaulted a woman last fall. Now, the senior who was three months shy of earning his degree says he's suing the school, the New York Post reports.
The allegations stem from incidents involving a relationship Montague had with a woman in October 2014. Montague's attorney, Max Stern, issued a statement, saying that the dispute between Montague and the woman is over one of four sexual encounters they had. He claims it was consensual, while she says otherwise.
A complaint was filed on the woman's behalf on Nov. 18, 2015. A panel of the Yale University-Wide Committee ruled in her favor, and then the university provost upheld the ruling. The school expelled Montague on February 10.
Stern called the decision "arbitrary and excessive," and accused Yale of using Montague's case to set an example after coming under fire for a lack of action in a report on sexual assault by the Association of American Universities. Yale instituted a system for handling campus sexual assault complaints in 2012 when they resolved a federal complaint over past insufficient responses.
Police say there are no criminal charges filed against Montague, and there is currently no investigation, according to the NY Post.
Yale says, "the decision to expel a student is made only after the most careful consideration, based on the facts and, when appropriate, disciplinary history," and that only about one in 10 cases result in expulsion.
[h/t NY Post, screengrab via SportzEdge.com]
Have a tip we should know? [email protected]