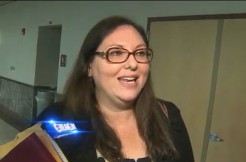 A disgraced attorney says jail guards lied about her having sex with an inmate.
"The allegation is false," Jessica Mishali, 35, told ABC 10 in a Thursday report. "This news made it all over the world. This news was in China. This news was in South America, and the effects are very serious, and I was wronged."
We wrote about her after the claims were made public. This Florida attorney was made persona non grata at Broward County jails after a sheriff's deputy reported her having sex in an interview room with her client, a convicted felon facing charges of attempted murder.
She insists the allegation is a lie.
"Anybody loves any type of story about sex, and it's scary how easy it is for anybody to say anything and then go into the world and ruin your reputation, ruin your profession, try to ruin your life," Mishali said.
She reports that the interview rooms feature large windows, and are often checked by deputies, so even going for quickie would be a bad idea.
But it's worth noting that before the allegation broke, she was fired from her job at the Office of Criminal Conflict and Regional Counsel because of some kind of "misconduct" involving that same client, 26-year-old Ysreal Granda.
"Me being terminated from Regional Counsel is a separate issue," she said. "And that's not what we're here to talk about."
No, Mishali said this is a setup, with Granda apparently poised to cooperate in a corruption investigation on sheriff's deputies. Certain officials were accused of giving cellphones to inmates for pay, and Granda was reportedly ready to be an informant before the sex allegations popped up.
For now, Mishali promises to sue the Broward County Sheriff's Office for false arrest. Not only that, she'll continue to represent Granda since she can go back into the jail now, and can speak to him behind a glass window.
Now she's filed a motion to get a bond hearing for Granda, worrying about him after she herself was allegedly threatened by jail staff members.
"He knows that he is surrounded by people who fear him and hate him and they have all the control," she said.
The BSO confirmed the corruption investigation with ABC 10, but didn't comment on Granda since this is an ongoing issue.
[h/t ABC 10]
[image via ABC 10 screengrab]
–
>> Follow Alberto Luperon on Twitter (@Alberto Luperon)
Have a tip we should know? [email protected]ndcrime.com