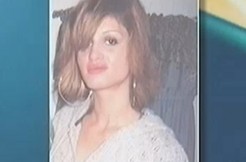 A woman who was discovered dead in 2011 might have been murdered, according to a report released Friday by a top forensic pathologist. Dr. Michael Baden believes the body of 24-year-old Shannon Gilbert displayed signs of strangulation, though he didn't rule on the cause of death. Baden is a the former New York City medical examiner, who was hired by the family to conduct a private autopsy.
Investigators suggested that maybe she drowned or died of exposure after she went missing in Long Island, NY in May 2010. She was last reportedly seen running and screaming into a marsh.
It was during the search for Gilbert that human remains belonging to 11 people were discovered in December 2010. Nine of those victims (8 women and 1 man) were known prostitutes, as Gilbert was, and investigators linked them to at least one serial killer.
Gilbert was found in 2011, but it's only now that a report suggests this may be a homicide, and her family believes whoever possibly killed her was the same person (or people) who killed those 11 others.
They want the police to investigate her death as a homicide, and meanwhile, they're suing a doctor who they think knows about how she went missing.
Gilbert had been with a client the day she disappeared, but he was ruled out as a suspect by police.  Suffolk County medical experts said the autopsy was inconclusive
[h/t NBC New York]
[image via NBC screengrab]
–
>> Follow Alberto Luperon on Twitter (@Alberto Luperon)
Have a tip we should know? [email protected]