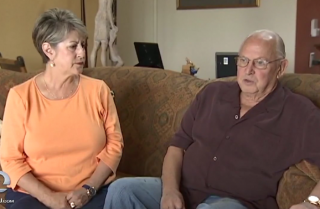 Well, this probably wasn't in the travel brochure. Jon and Linda Grant of California went on an African vacation, when they decided to buy an exotic souvenir. Little did they know it would cost them a whole lot more than the retail price. The couple toured around the continent, starting in South Africa, where Mr. Grant saw a giraffe bone carvings of an elephant heard on it, KGO-TV reported. Thinking it would look great at home, he asked the clerk if the item was legal. Mr. Grant was told only ivory items were subject to restrictions, and purchased the bone, not considering what the laws might be in other countries on his trip.
At a later stop in Tanzania, a baggage checker stopped them and asked about the item in Mr. Grant's bag. After saying what it was and where he got it, the couple boarded a plane, but were quickly removed, their tickets canceled. Mr. Grant was told that the giraffe is Tanzania's national animal, and he and his wife were taken away in a van. They spent two nights in jail and one in prison with "real criminals," as Mr. Grant told KTVU. They faced 20 years in prison and $150,000 in fines for poaching charges.
They contacted their Congresswoman, Jackie Speier, who got their charge reduced to failing to have an export permit. Speier told KGO-TV that the Grants were likely targeted because they were Americans who looked like they had money. In the end, they still had to pay a $30,000 fine, along with another $30,000 in bribes, and $2,000 for someone to travel from South Africa to the Tanzanian court with a receipt to prove where they bought the item.
The Grants, who say they've visited over 100 countries, have no plans to leave the U.S. any time soon. Next time they do, maybe they'll settle for a t-shirt.
[h/t NY Daily News, screengrab via KTVU]
Have a tip we should know? [email protected]