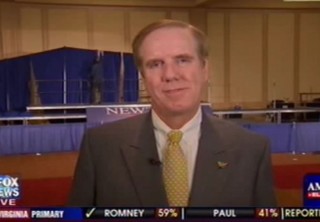 Republican National Committee member Randy Evans gave an inside look into what the RNC's Rules Committee may consider when they meet in April. He would know, he is on the very important committee that ultimately recommends new rules, which are eventually voted on by all of the delegates at the Republican National Convention in Cleveland, Ohio. As you know, Republican front runner Donald Trump is trying to reach 1,237 delegates, which would help secure him the nomination. However, there has been much talk that the Republican establishment might steal them away from him. That's why it is really important that you pay attention to what rules could be changed. Republican delegates have the power to change the rules even before they begin voting during the convention in July. This is the first time that we are hearing what actual rule changes might take place. Of course, if any of them go through, they could change the outcome of who gets the nomination.
"I can say there is no appetite to rig the convention," Evans said in an interview with The Atlanta Journal Constitution (AJC). Nonetheless, here are a few rules changes that they may consider:
Unbinding the delegates. We wrote about this earlier this month, this move basically allows the delegates to vote for who they want to (even in the first round of balloting). They would not be forced to vote based upon who wins the primary/caucus in their state. Evans believes that change would be unlikely to pass.
Potential Change to Rule 40. The rule requires a candidate to win the majority of the delegates from eight different states in order to win the nomination. The rules committee could change that to five or even three states. That would give the other candidates a better chance of getting their names called out during the nomination.
Pledging delegates. This is a really interesting one. This would allow candidates (say John Kasich) to pledge their bound delegates to other candidates (um, say, Ted Cruz.) Evans told the AJC that he would oppose that rule, because it would reduce the clout of individual delegates.
Evans said that Donald Trump, on his current path, is likely to enter the Convention about 75 to 100 delegates short of the 1,237 delegates needed to win the nomination.
"It's way more likely than not that we end up with a presumptive nominee. It's not that I know some inside secret. It's that I know how the process that I designed actually works," Evans told the AJC.
[screengrab via Fox News]
Have a tip we should know? [email protected]
Rachel Stockman - President / On Air Host