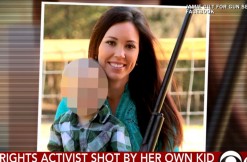 Jamie Gilt survived accidentally getting shot in the back by her 4-year-old son, yet it's somehow about to get worse. Authorities in Putnam County, Florida told prosecutors Tuesday that that Gilt, 31, could face a misdemeanor charge for allowing her son access to a firearm.
If you don't know how this happened in the first place, here are the details. Gilt was driving a truck on March 8 while her son was in the back on a booster seat. Authorities say she hid a .45.-caliber handgun under the front seat, but it slid back. The child had reportedly just learned how to unbuckle himself, too.
Gun was under front seat and not in holster. Somehow slid to back seat. Child get out of child seat and grabbed gun and fired #ANjaxBREAKING

— Michael Yoshida (@MichaelANjax) March 22, 2016
The bullet reportedly traveled through Gilt's seat, and entered her back. She was taken to a nearby hospital in stable condition, and left after a few days.
It's up to the State Attorney's Office as to whether she'll get charged. If convicted, she would face 180 days in jail for this second-degree misdemeanor. In Florida, it's illegal to store a gun where a minor is likely to gain access to it. For example, it must be stored in something like a locked box.
Gilt is a gun rights activist, known for her Facebook page, "Jamie Gilt for Gun Sense."
[h/t CBS]
[image via CBS screengrab]
–
Follow Alberto Luperon on Twitter (@Alberto Luperon)
Have a tip we should know? [email protected]