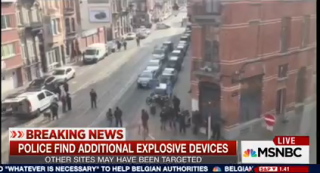 Update — 5:51 p.m. EST: The taxi driver who reportedly drove the three suspects in this morning's bombing in Brussels found the men to be suspicious after he attempted to assist them with their bags as they arrived at the airport. The driver found the incredible weight of the mens' luggage particularly suspicious and, once he learned of the bombing, informed police and brought authorities to the home where he picked up the three men. That's where police located the ISIS flag and explosive devices that are the subject of this article.
Belgium's federal prosecutor's office has confirmed that home raids conducted by authorities in Schaerbeek, a northern suburb of Brussels, have led to the discovery of explosive devices, chemical products and an Islamic State flag, according to Jennifer Rankin of The Guardian. The raids are ongoing.
The searches have reportedly led to the discovery of an explosive device containing nails, similar to the bombs used by Dzhokhar Tsarnaev, the Kyrgyzstani-American who was convicted of planting bombs at the Boston Marathon on April 15, 2013, together with his brother Tamerlan Tsarnaev.
The bombs used by ISIS terrorists during the attacks contained shrapnel, including nails and bolts, Belgian authorities say. The Military Hospital in Neder-over-Heembeek released a photo of an x-ray showing a bolt stuck in the chest of a survivor: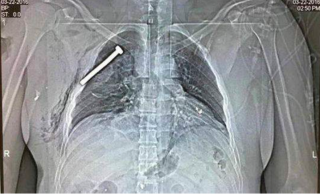 The Islamic State has claimed responsibility for the coordinated bombings on Tuesday morning and U.S. counterterrorism officials believe the claim is genuine. ISIS sympathizers have already taken to social media to celebrate the deadly terror attacks.
Counterterrorism officials from the U.S. told NBC News that the Zaventem airport attack involved three suitcase bombs. Two of them were detonated by the terrorists, while a third did not explode and was blown up by Belgian authorities.
The capital of Belgium is at its highest alert level after explosions rocked the airport and a subway station in Brussels that killed at least 30 people and wounded about 230 more. The blasts come less than a week after Salah Abdeslam, the ringleader of the terrorist attacks in Paris, was captured in a raid in the Molenbeek neighborhood of Brussel.
[h/t TheGuardian, CTV, NBCNews]
[Screengrab via MSNBC]
Have a tip we should know? [email protected]