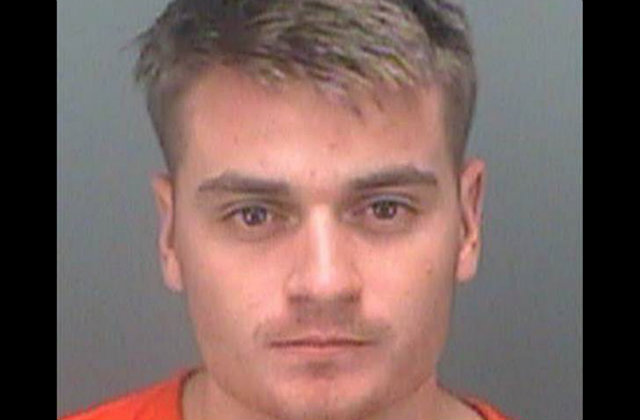 A federal magistrate judge sparked outrage on Friday after issuing bond to an alleged neo-Nazi arrested for possessing explosives. That has changed: Florida man Brandon Russell's bond was revoked on Wednesday after prosecutors convinced the court he really was a danger to others. He will now stay in jail until his trial.
Authorities say he planned to attack multiple targets: synagogues, nuclear facilities, power grids, and other people. Russell allegedly attempted to recruit others.
"There are big things to come," he allegedly wrote in an online chatroom under a pseudonym. "We have many plans for the future."
With this new claim, U.S. Magistrate Judge Thomas McCoun changed his mind about his previous decision. On Friday, he said there was "no clear and convincing evidence" that the defendant was a threat to others. Bond was set at $200,00.
Russell's alleged plot was discovered during the investigation of a double murder: one of his roommates is charged with killing the other two. Devon Arthurs, 18, faces murder counts in the deaths of Jeremy Himmelman, 22, and Andrew Oneschuk, 18. He allegedly told authorities he had been a neo-Nazi like them, but converted to Islam, and killed them because they disrespected his faith.
He allegedly told officers "he had been privy to neo-Nazi internet sites threatening to kill people, and he had developed a thinking that he should take some of the neo-Nazis with him."
Russell was found outside the apartment, distraught at finding his dead roommates, authorities said. The ensuing investigation linked him to explosive materials in the apartment. According to authorities, he said he was only part of a college engineering club.
[Mugshot via Pinellas County Sheriff's Office]
Have a tip we should know? [email protected]