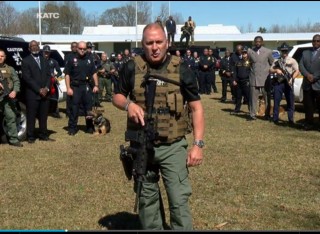 The Louisiana Chapter of the American Civil Liberties Union is firing back after a police captain produced a video taunting gang members who were allegedly terrorizing the community.
"You will be hunted. You will be trapped. And if you raise your weapon to a man like me, we'll return fire with superior fire," said Capt. Clay Higgins in the video.
Higgins is urging the public to help law enforcement find the so-called "Gremlins Gang." KATC reports that they've been accused of murder, theft and other drug related crimes.   In the video, the tough-talking police captain can be seen holding a large weapon, surrounded by other officers, giving the gang members a piece of his mind. The video is part of a Crime Stoppers series that Higgins helps produce in his capacity as public information officer for the sheriff's office. In fact, Higgins described the suspected criminals as "heathens" in the video. That did not sit well with The American Civil Liberties Union of Louisiana.
They released this statement, according to KATC:
He refers to those he seeks to arrest as "heathens."  "Heathen" is a religious term, and unless Mr. Higgins has specific information about the religious beliefs of those individuals, it is both inappropriate and incorrect.  And even if it's true that these individuals, or some of them, are religiously "heathen," that is of no consequence to their status as criminal suspects.  Unless Mr. Higgins believes that all law-abiding people share his personal religious faith – and if he does believe that, he should not be an officer of the law – to call someone a "heathen" and equate that to "criminal" is simply insulting, wrong, and potentially a violation of the First Amendment of the U.S. Constitution."
"Those guys at the ACLU, for them to accuse me of being some kind of redneck thug who has no concept of constitutional rights, they just haven't researched me," Higgins told the Acadiana Advocate.
Higgins also challenged the ACLU to a debate. No word if or when that will happen.
MUST WATCH:
[h/t KATC]
Have a tip we should know? [email protected]
Rachel Stockman - President / On Air Host