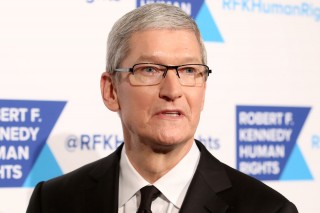 The smart engineers at Apple are apparently already hard at work developing new security measures that would basically make it impossible for the police, FBI, or anyone else to break into a locked iPhone, according to The New York Times.
If Apple is successful, security experts say the new technology would create a significant hurdle for law enforcement agencies that try to access phone data during the course of an investigation. We already know that the feds are battling it out with Apple over accessing the cell phone of Syed Farook, one of the San Bernardino shooters.
"We are in for an arms race unless and until Congress decides to clarify who has what obligations in situations like this," Benjamin Wittes, a senior fellow at the Brookings Institution told The New York Times.
In its most recent operating system, Apple built in a technology to protect consumer information. Technology like that is preventing the FBI from accessing Farook's cell phone. Apple is refusing to cooperate with a court order that would require the technology company to create a backdoor to access the phone. Apple's CEO, Tim Cook, contends that writing a program for the feds would make consumer phones susceptible to hackers and other threats.
"Now that the government has tried to force Apple to hack its own code, security officials say, that company must view itself as a vulnerability. That means engineers will have to design a lock they absolutely cannot break," the The Times reports.
The company is also worried about that the case setting a precedent for forcing technology companies to write codes for the government. The DOJ says they need access to prevent potential future attacks.
[h/t The New York Times]
Have a tip we should know? [email protected]
Rachel Stockman - President / On Air Host