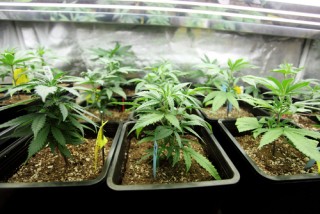 A second grader in Vermont told stories of helping a "farmer" grow "special medicine," not knowing that the medicine was marijuana. The farmer in question is Steven Mann, the boyfriend of the child's mother.
According to the Barre Montpelier Times Argus newspaper, Windsor Police Detective Jennifer Frank stated in an affidavit that last week the boy told her and school officials about how Mann got him to help grow "special medicine that can cure anything at all." The child told Frank that Mann gave the plants to "anyone who needs the medicine," and described how the plants looked.
When Frank arrived at the boy's home, she smelled the scent of burnt marijuana. Mann then handed over a glass pipe that was still warm. It appeared that Mann and his girlfriend had been using it while the eight-year-old boy was in the room.
Police said they found two "grow rooms" in the house next to the boy's bedroom. One contained new plants, while the other had more mature ones. Officers seized nearly $700 in cash, bags of marijuana, psilocybin mushrooms, as well as paraphernalia including pipes, rolling papers, and digital scales.
Mann allegedly confessed to selling marijuana for $10 a joint or $50 for an eighth of an ounce, saying he did 90 percent of his business in New Hampshire, but gave free marijuana to at least one elderly resident of Windsor.
Mann appeared in White River Junction criminal court on Monday, and is charged with one felony count of cultivating more than 25 marijuana plants, although additional charges may be forthcoming. He currently has no criminal record, but could face up to 15 years in prison if convicted.
The Department of Children and Families is reportedly conducting an investigation, due to the proximity of the operation to the child.
[h/t NY Daily News, image via Shutterstock]
Have a tip we should know? [email protected]