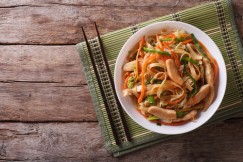 A sweeping report out of China has identified 35 restaurants busted for illegally using opium poppies as seasoning: among them a popular Beijing steamboat (or hot pot) chain. Five of the restaurants are now being prosecuted in violation of Chinese law. The 30 remaining restaurants are currently under investigation by the Chinese Food and Drug Administration.
This is not a first for China. In 2014, police busted a noodle shop after receiving a tip related to a failed drug test. In 2004, 215 restaurants were implicated for deliberately lacing meals with opium, leading to a mass shutdown.
Ground poppy, an ingredient regularly used by cooks, contains small amounts of opiates like morphine and codeine; however, it is not clear whether the ground poppy can cause the alleged effect of "hooking" consumers or causing a "buzz." The poppy used in China contains significantly higher opiate contents than what you might find on a poppy seed bagel at a New York deli. Poppy is a narcotic which can cause serious addiction, a problem China is all too familiar with.
Opium has monumental historical significance in China. What started out as a medicinal solution in the 7th century quickly became a desired element in the popularized smoking culture of the 17th century. To be succinct, the First and Second Opium Wars soon followed and generated massive, widespread problems of addiction across the country.
If history is any indication, this is a problem China will continue to face for years to come.
Have a tip we should know? [email protected]