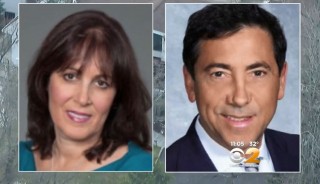 Police allege that a millionaire financial advisor stabbed his wife 21 times in an attack reminiscent of the famous 'Psycho' scene. Investigators say that Jules Reich then smoked a cigarette before reporting about what happened.
These new details emerged during Westchester County, New York bond hearing on Friday, where the judge jailed Reich without bail.  The victim, Robin Goldman, a pediatrician, had recently changed the locks on their 5-bedroom home, when Reich entered and repeatedly stabbed her, according to the Westchester County assistant district attorney.
Goldman was in the midst of a bitter divorce with Reich, and was reportedly fearful for her safety.  The couple lived in multi-million dollar home in the wealthy suburb of Scarsdale, New York. This is the first homicide in the quiet suburb in nearly 40 years.
[h/t NY Daily News]
Have a tip we should know? [email protected]
Rachel Stockman - Editor in Chief / On Air Host