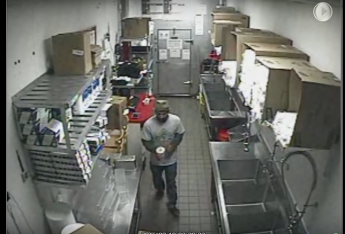 D.C. police are asking the public's help in identifying a man who they say seemingly had a such a craving for a Five Guys cheeseburger that he allegedly broke into the restaurant sometime between 3:10 a.m. and 5:05 a.m. on March 18 to cook the burgers for himself.
The entire incident was captured on the restaurant's surveillance camera system and police just released a copy of it.
WATCH:
The D.C. police also released this statement with the video:
"A suspect followed a delivery man into the restaurant and waited until the delivery man left. He then rummaged through the establishment, cooked food, and stole bottled water before leaving the restaurant."
For the record, the video also shows that the man cleans up after himself rather well.
If proven, the actions of this unidentified man may top golfer Phil Mickelson's legendary hold on the unofficial title of the greatest Five Guys burger craving of all-time.  In 201o, Mickelson said in an interview that he would be heading to Five Guys again after his round of golf — for the sixth day in a row.
"What I've done the last five days, go to Five Guys Burgers. That place is so good. I can't stop going there," Mickelson said.  "This will be my sixth day in a row. I grew up on In-n-Out. I thought that was the best burger until I had Five Guys. That is hands down the best burger I've ever had."
Anyone with information about the D.C. incident is asked to call police at 202-727-9099.
[h/t CBS Baltimore; image via screengrab]
Have a tip we should know? [email protected]