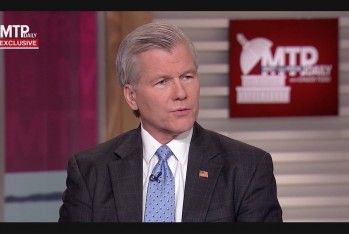 Former Virginia Governor Bob McDonnell spoke out on Friday, one day after learning federal prosecutors would not pursue a second corruption prosecution against him.
McDonnell spoke to NBC's Chuck Todd in an interview that will air in full later on Friday on MTP Daily.  The former governor says he feels "vindicated" by the decision, along with the Supreme Court's 8-0 vote early this year to throw out his conviction.
"And I know in my heart, Chuck, I never believed that anything that I did was wrong, illegal," McDonnell said. "I complied with state reporting statutes. I set up meetings for donors and non-donors thousands of times. And so I thought that I was trying to help this Virginia business to do something that was good for the people."
WATCH:
McConnell said his biggest problem with the law he was charged under is its vagueness and he believes Congress needs to change the law to clarify it.
"I do think [Congress] should clarify it and they should look at the standard the United States Supreme Court unanimously set, because I mean as a lawyer, the very essence of a law is to make sure that there's a bright line so you know what is legal and what is illegal," McConnell said.  "But having said all that, if I could do it over again, I wouldn't take one gift."
Have a tip we should know? [email protected]