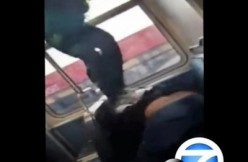 Woo. Video shows a woman kicking, stomping, jumping on a man in Long Beach, California on Monday. The altercation happened on a train.
A witness, speaking on condition of anonymity, told the outlet it happened because the alleged victim, seemed intoxicated, called the woman racial slurs.
One word can sum up the footage: Vicious. She stepped on him like wine makers step on grapes. She jumped on him like a 5-year-old jumps on a bed. She all but tap danced on his back. This is not an exaggeration. So yeah, please note the following video, obtained by KABC, includes violence.
"Don't kill him now, G-d d—n," said one bystander.
Neither person has been identified because they both left before authorities arrived. The Los Angeles County Sheriff's Department Transit Bureau told KABC that they're investigating the incident.
The race and ethnicity of the individuals involved in the incident is not immediately clear.
[Screengrab via KABC]
–
Follow Alberto Luperon on Twitter (@Alberto Luperon)
Have a tip we should know? [email protected]