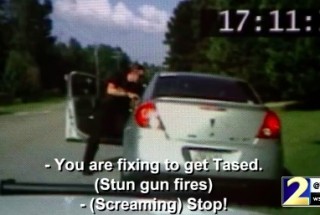 Police in Georgia arrested a woman after she was seen on video running over an officer. It happened in Barrow County, Georgia. The incident started as a routine traffic stop over the weekend. When the officer ran the woman's license, he quickly learned Jessica Fox, 28, had a felony warrant out for her arrest. When he attempted to get her out of the car, she protested, he eventually tased her, but she took off and ran over the officer. The officer was taken to the hospital with a torn achilles tendon and a concussion, according to local reports.
"I wasn't sure she ran over this leg. I knew for sure she ran over this leg, because I felt it and I heard thump, thump, oh, that's my leg," Officer Marc Lofton told WSB-TV.
Watch video here:
In the video, you can see the officer struggle to get her to come out of the car. He then says "you are fixing to get tased."  He repeatedly tells her to get out of her car. As she screams, Fox starts driving away, dragging the officer with her. He is run over as she speeds off.
Interview with officer:
Fox was later caught and is in now facing charges including assault of an officer.
[h/t WSB-TV]
Have a tip we should know? [email protected]
Rachel Stockman - President / On Air Host