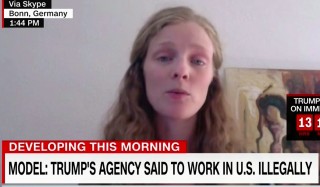 A model who said she worked for Trump's modeling agency without a proper visa spoke out Wednesday morning about what she called the worst living conditions she's ever experienced. In a Mother Jones investigation, several former models for Trump Model Management say they worked illegally under tourist visas for years, and were even encouraged to deceive customs officials.
Rachel Blais said she worked in the United States for six months without a work visa. During that time, she says she even appeared on Trump's The Apprentice to model outfits designed by Trump's business associates. The new revelations come as Trump prepares to give a speech re-defining his hardline approach to immigration.
Blais appeared on CNN New Day Wednesday morning to talk about Trump's modeling agency, which she called the "most crooked" place she's ever worked.  She called in via Skype from Bonn, Germany.
Watch here: 
"I worked with a different agency when I left Trump and they got my visa right away," she said.
She also discussed how she lived with seven models in a small New York apartment. She said that she didn't believe any of the models had work visas either.  They paid $1,600 per person to share the room.
"This was by far the worst model's apartment I've every lived in," she said. Blais said she is speaking out because she wants the public to know the truth about the industry.
Blais did admit that it was a "normalized" practice in the industry for your first time in the United States to come without the proper paperwork.
A Trump campaign spokesperson has referred the question to Trump Model Management. So far, they have not released a statement. We have contacted U.S. immigration officials to see if they plan to look into these claims.
Have a tip we should know? [email protected]
Rachel Stockman - President / On Air Host