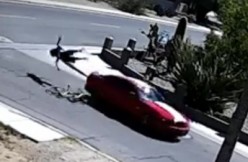 In video recently released on YouTube, a man on a bicycle was hit by a car and was sent whirling. Investigators say the perp is Misty Lee Wilke, 43, according to a Fox 5 report. The incident happened on April 29 in Phoenix, Arizona.
The video was published on June 5 to YouTube, but it features cheery music for some reason, so we're going to post Fox 10's version instead. As noted before, a man gets hit by a car. The man reportedly sustained a fractured vertebrae and a head injury. Though he survived, be warned for graphic content:
A KPNX report says that since then, Wilke has been indicted for charges including attempted second-degree murder, leaving the scene of an accident, and aggravated assault with a deadly weapon. She pleaded not guilty.
Court documents obtained by Fox 5 state that before the incident, she told police she had recently discovered the victim was HIV positive. The victim, who'd just started a sexual relationship with Wilke, allegedly laughed about this discovery. She said she pushed him, then he swiped at her with a knife.
–
Follow Alberto Luperon on Twitter (@Alberto Luperon)
Have a tip we should know? [email protected]