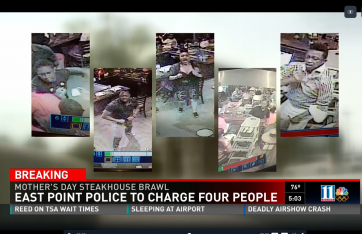 Authorities in metro Atlanta arrested four people on Monday in connection with a wild brawl that broke out at a Japanese steakhouse on Mother's Day.  The brawl was captured on restaurant surveillance cameras and recorded by customers on their cellphones.
Police arrested Devecc Billingslea, 26, Zacarli Dalcoe, 25, Willis Jumario Hall, 26, and Demonte Harrison, 21, on Monday.  All four are accused in connection with starting the brawl that police say began after the four became upset with their waiter because he smiled as he approached their table.
Cellphone video obtained by 11 Alive News shows a portion of what happened next.
WATCH:
Police say a woman apparently did not care for the smiling waiter, so she asked, "Why are you smiling?"  Police say there was an exchange of words at the table, but the waiter soon left to go back behind the counter.  Three men sitting at the table then followed the waiter behind the counter and attacked him, according to the report.
A customer captured cellphone video that appears to show the entire restaurant descending into chaos as a brawl breaks out between several customers and restaurant employees.  Punches and serving trays are thrown — even a busboy cart appears to be used as defensive weapon at one point.
The owner told Alive 11 that his restaurant did not undergo much physical damage, but he did lose approximately $5,000 in business because he had to close down early.  He also said several customers, including the four accused of starting the fight, left without paying.
Billingslea, Dalcoe, Hall and Harrison all face charges for disorderly conduct
[image via screengrab]
Have a tip we should know? [email protected]