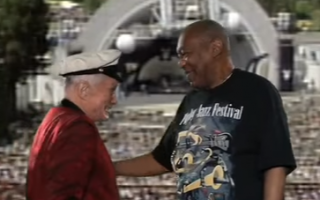 A woman who is accusing Bill Cosby of sexually assaulting her at the Playboy Mansion in 2008 is also suing Playboy founder Hugh Hefner for introducing her to the comedian. The lawsuit, filed in California Superior Court, is against both men, claiming that after Hefner made the introduction, Cosby brought her a beverage, and that he had "put some type of drug or narcotic in the drink."
Chloe Goins alleges that Hefner told her to lay down in a bedroom after noticing that she didn't look well, and that Cosby took her to a private area. She claims that at that point she blacked out, and later woke up naked with Cosby in the room with his pants down and touching her feet. She is suing Cosby for sexual assault and Hefner for negligence, claiming that he "knew or should have known" about Cosby's "history of severe and serial sexual battery and or possibly [sic] rape of women." She also claims that Hefner is responsible for her receiving an alcoholic beverage at the party when she was under 21.
The complaint does not specify a specific date, saying that Goins does not remember exactly when the incident allegedly took place, just that it was in 2008. According to BuzzFeed, Goins had previously sued Cosby in October 2015 on claims with similar details, but withdrew it in February. LawNewz.com is reaching out to attorneys for both Hefner and Cosby. We will update accordingly if we receive a response.
Update 5/17/16 12:10pm: LawNewz.com asked Spencer Kuvin, attorney for Chloe Goins, why Goins filed the new lawsuit just months after dropping the previous one against Cosby. Kuvin said the decision was "at the recommendation of our legal team based on an internal review of the facts, and all legal strategies and options available to Ms. Goins in her long and arduous pursuit of justice against Bill Cosby and his fellow conspirators, which includes Mr. Hugh Hefner."
[image via screengrab]
Have a tip we should know? [email protected]