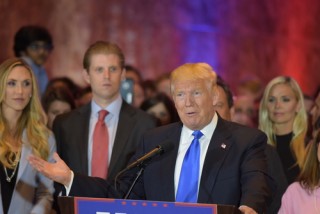 Almost immediately after The New York Times published a front page article headlined, Crossing the Line: How Donald Trump Behaved With Women in Private, Trump fired back. The article, which examined Trump's treatment of women in private, came under scrutiny after one of the women featured said that her words were taken out of context.  Now Trump is going a step further, claiming that the article was "false, malicious & libelous." Sounds like legal fighting words!
Trump's attorney, Jill Martin, didn't rule out a lawsuit either, telling CNN: 'I think that is a distinct possibility. I haven't talked to him about it personally, but, you know, when he's attacked like that and things are said falsely, he's definitely fires back."
No wonder the @nytimes is failing—who can believe what they write after the false, malicious & libelous story they did on me.

— Donald J. Trump (@realDonaldTrump) May 16, 2016
So would Trump have any kind of case? Probably not.
"It's doubtful that Donald Trump could successfully sue the New York Times over its recent article critical of his treatment of women because he is clearly a 'public figure.'  As such, he would have to show that the Times acted with knowledge that the article was false, or with reckless disregard of the truth – a very difficult standard for anyone to meet," George Washington University School of Law Professor John Banzhaf told LawNewz.com
And it looks like Trump's legal team recognized it would be a pretty tough case. Trump's general counsel, Michael Cohen, appeared on CNN this morning, and walked back the whole lawsuit thing.
"It's a very high bar … I don't this is going to end up in litigation," Cohen said. "The truth is that The New York Times owes both Ms. Brewer and they owe Donald Trump an apology and they need to do a retraction and they need to actually be fair because they're destroying their paper."
And the truth is a lawsuit over this issue would probably be a field day for journalists.
"Even Donald Trump, I would think, would not be foolhardy enough to bring this lawsuit. Imagine empowering the NYT, right now, with subpoena power to require under oath testimony from him and every woman he has ever touched or spoken to in a potentially offensive manner. Such favors are not often granted to journalists," First Amendment attorney, Floyd Abrams, told LawNewz.com. Abrams is the father of our founder.
Have a tip we should know? [email protected]
Rachel Stockman - Editor in Chief / On Air Host