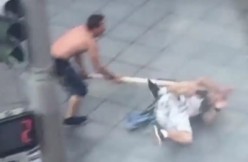 On Wednesday, a shirtless man reportedly went berserk with a pipe at a Denver, Colorado mall. Clarence Seeley, 32, was arrested for aggravated assault, according to a press release obtained by LawNewz.com.
"One victim, a 35-year-old man, suffered a head laceration from the assault, but refused medical treatment from responding paramedics," the statement read. Seeley is possibly linked to a separate assault that happened beforehand.
You can read a probable cause statement, obtained by LawNewz.com, here.
Political pundit Caleb Bonham recorded the incident, and posted the video to Facebook:
"The 16th Street Mall is unpatrolled and people are getting hurt," he wrote in his post. "This is why I am posting this. Nothing is being done. The leaders in our city keep saying they are going to do something. When?"
A spokesman for The Denver Police Department told LawNewz.com officers made it to the scene within three minutes of hearing about it, and that Seeley used a "PVC-type pipe" in the attack. This investigation is ongoing.
The site of the incident, the 16th Street Mall, apparently has had recent troubles with criminal activities. On Monday, Denver Mayor Michael B. Hancock announced that police patrols will be increased in the area.
–
Follow Alberto Luperon on Twitter (@Alberto Luperon)
Have a tip we should know? [email protected]