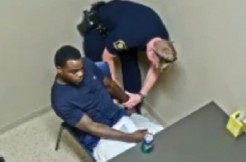 Surveillance footage shows a murder suspect trying to grab a police officer's gun. It happened in Cincinnati, Ohio, according to a Fox 19 report.
Thomas Robinson, 23, had been arrested for allegedly shooting teenager Joseph Reno Armstrong Jr. When police brought him in on Tuesday, they found a 9mm handgun and heroin on him.
But let's cut to the meat of this article. Footage from the police interrogation room captured an officer changing Robinson's handcuffs. As seen on video, Robinson made a go for the cop's gun, and a struggle ensued. Two other cops, armed with stun guns, jumped in to help their colleague.
"Kill me," Robinson yelled several times before police subdued him.
See it here, from Fox:
A report obtained by Fox said one officer, James Ball, sustained several injuries to his face, including his lip.
According to the Hamilton County Sheriff's Office, Robinson faces one count of murder, one count of having weapons while under disability, one count of aggravated robbery, one count of assault, and one count of possession of a controlled substance. The murder charge carries a possible life sentence. (Only an "aggravated murder" charge presents a possible death sentence in Ohio.) He's still locked up, being held pending a bond of just over $1.7 million, and waiting for a June 27 court date.
–
Follow Alberto Luperon on Twitter (@Alberto Luperon)
Have a tip we should know? [email protected]